We enjoyed our trip through Alaska very much!  We stayed with some old friends who were operating a Bed and Breakfast in Ancorage.  We traveled quite a bit to see everything we could!  We spent almost 2 months in Alaska, and almost got caught by snow!  The Alcan Highway was so bad, we took the Alaska Marine Highway (Ferry) back.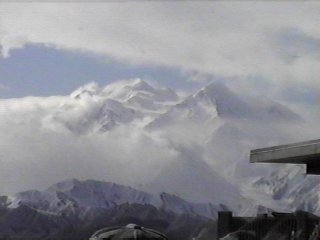 Mt. McKinley is known now as Denali which is the name the natives call it.  We got a rare view of the mountain as the clouds cleared for about 5 minutes.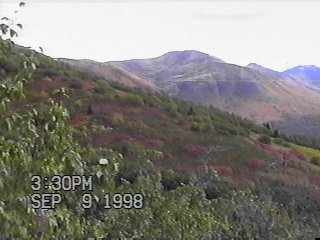 My favorite aspect was the tundra.  We were too late in the season to see vast herds of animals, but the tundra had put on its fall color show and it was awesome!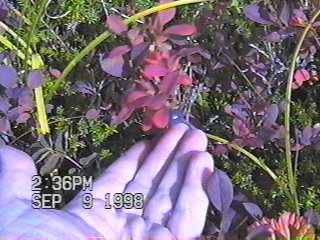 The wild blueberries grow very close to the ground.  They are very sweet as long as you don't have to fight the bears for them!  Our B&B friend Joan Budai took me out to pick them one day at one of her favorite spots.  We made blueberry syrup from the ones that made it home.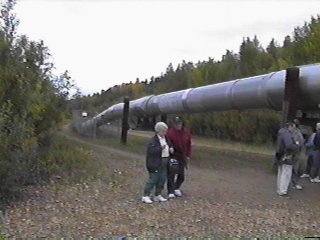 Part of the Alaska Pipeline.  Caribou herds are flourishing since it was put in!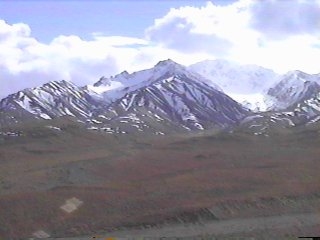 Polychrome Valley is a beautiful spot in the Denali NP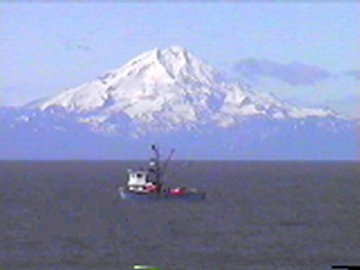 Mt Redoubt in the background with a fishing trawler  in front.  This is on the Cook Inlet where Mom and I went digging for Razor Clams.  Yummm..... only problem was the sand is VERY rough with lots of debris in it. 

Below is the mountain at sunset.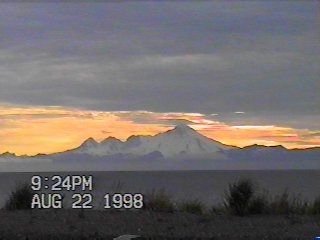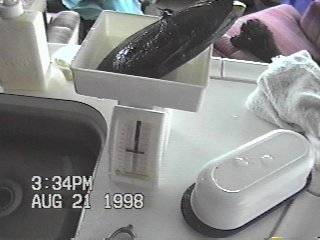 This is one of the clams we dug.  It weighs 10 oz. and is as big as a one dollar bill!